The Upcountry's mountainous terrain is the perfect region to view the fall leaves. There are so many state parks to explore and each one has its own unique views. Not only that, but the Upcountry holds many other opportunities for activities, such as apple picking, pumpkin patches, corn mazes, hiking, and delightful stays. The only difficulty is choosing where to visit first!
"Life's about the journey, not the destination."
The Cherokee Foothills National Scenic Byway is the perfect example of this saying. Measuring 120 miles of beautiful scenery, SC Highway 11, or the Cherokee Foothills National Scenic Byway as it is more aptly named, stretches between Gaffney and Lake Hartwell, providing a more relaxed alternative to Interstate 85 travel. (Read our 7 Side-trips off Hwy 11.) You can start at any point along SC Highway 11 and enjoy the colorful views on your journey.
Fall leaves begin mid-October, typically, and last through mid-November. Weather plays a factor, of course, but fall offers 5 to 6 weeks of outstanding color. Read the weekly Fall Foliage report

here

.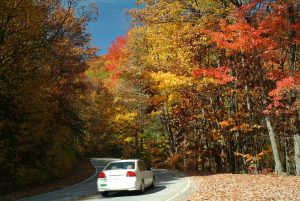 Along the way are seven state parks, each with a unique offering of fall foliage views. (Read our Best State Parks To View Fall Color story.) State parks offer many exciting outdoor activities such as hiking, fishing, and camping. What better way to fully experience all of the area's fall foliage than by surrounding yourself with it day and night! Take a waterfall hike through Rainbow Falls found in Jones Gap State Park or Raven Cliff Falls in Caesar's Head State Park. These two parks have easy access to one another by hiking through the Mountain Bridge Wilderness Area, which connects them. A unique experience at Caesar's Head State Park is the Hawk Watch program, which offers visitors the opportunity to watch thousands of birds of prey make their annual fall migration, against a beautiful backdrop of stunning fall foliage.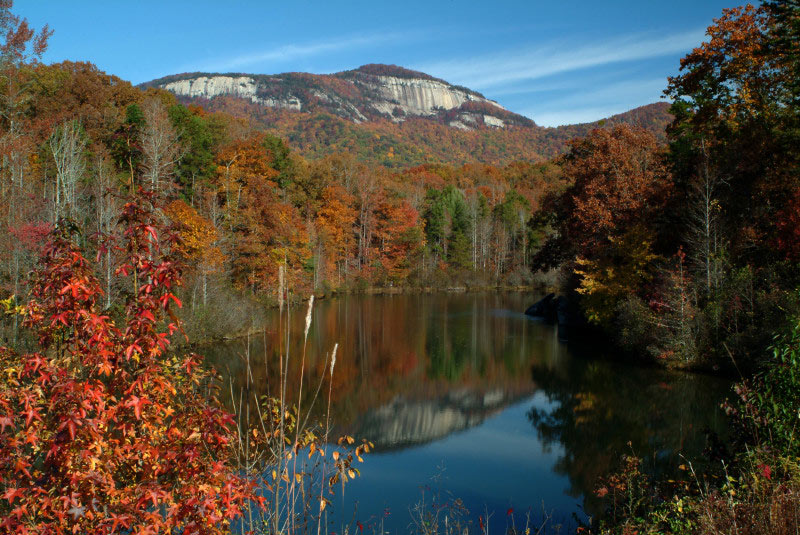 Caesar's Head State Park and Table Rock State Park both offer opportunities to hike up their respective peaks. Caesar's Head provides views into South Carolina, North Carolina, and Georgia. Hiking the Table Rock trail gives you access to the top of Table Rock and tremendous views of fall color. Don't miss the close-up views of the changing leaves as you head to the top.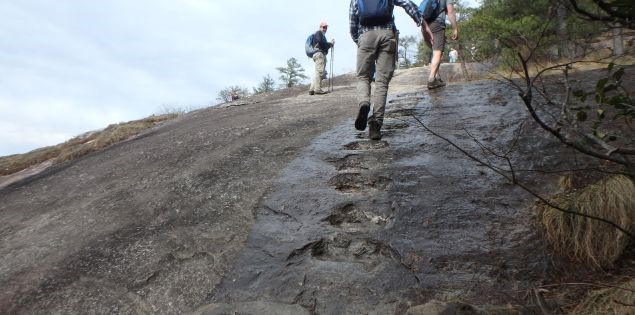 State parks offer a variety of lodging options for those who want to soak in every minute of South Carolina's beautiful fall foliage. Some parks offer drive-up and RV campsites with water and electricity while others only offer trailside camping. Some parks also offer cabins, such as Keowee-Toxaway State Park and Oconee State Park. The cabins at Oconee State Park are fascinating. They were built in the 1930s by the Civilian Conservation Corps and are the perfect lodging option for history lovers.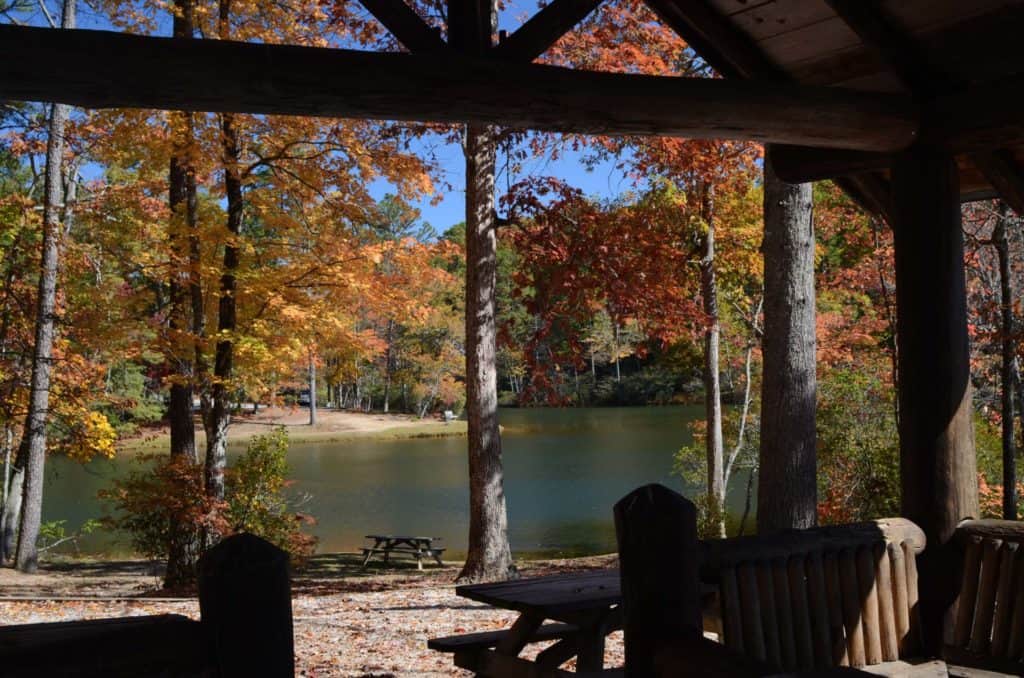 The nearby Andrew Pickens District of the Sumter National Forest is also a great way to be surrounded by the changing fall leaves. It is, of course, a forest, and what better way to see the fall leaves than being surrounded by 85,000 acres. Sumter National Forest offers many activities including hunting, fishing, hiking, camping, whitewater rafting, and horseback riding. In fact, The Rocky Gap Trail offers the most scenic horseback riding and hiking in the Southern Blue Ridge Mountains. You shouldn't miss the fishing opportunities on the Chattooga River, a nationally designated Wild and Scenic River. Dispersed camping is also available for those looking for a more immersive experience.
When you are not exploring the wonders of fall foliage at any one of South Carolina's marvelous state parks or forests, be sure to take part in other local fall activities such as apple picking or visit the pumpkin patch at Denver Downs Farm. These activities still offer beautiful fall views just by being outside but are a lot less strenuous than hiking all day. Denver Downs Farm offers a pumpkin patch, corn maze, and petting zoo for family-friendly fun. Chattooga Belle Farm offers apple picking as well as a distillery with gorgeous views of the mountains in all their colorful glory.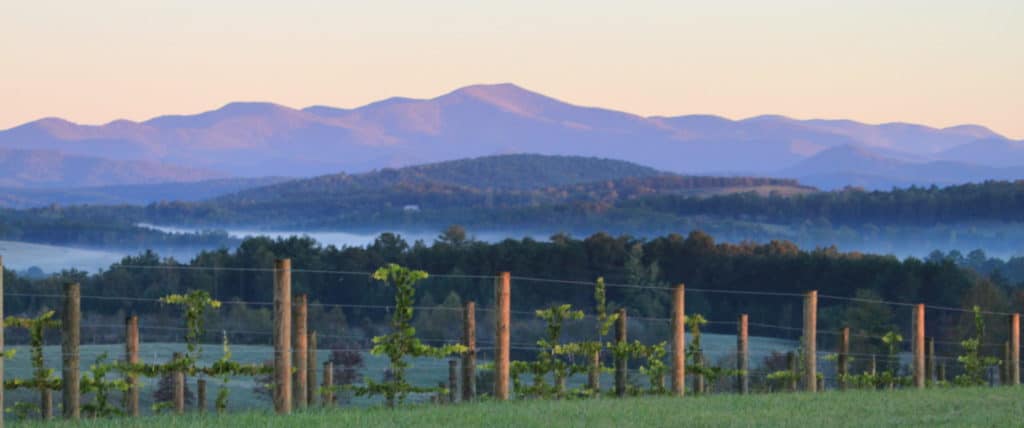 There are also a variety of lodging options outside of the state parks. These excellent accommodation options give beautiful views of South Carolina's changing. The Red Horse Inn in Landrum is the perfect place to rest after a long day of being outdoors. They offer a wine bar to help you relax with the added benefit of outstanding views of the Blue Ridge mountains. If you want to step out your door and see the color in the mountains, then Table Rock Inn and Laurel Mountain Inn are your kinds of places. If there is a sportsman in your group, they'll love River Bend Sportsman's Resort. They offer bird and deer hunts along with sporting clays, dining, and overnight lodging. See all your options on where to stay here.

No matter where you decide to explore on your trip, you will always be surrounded by gorgeous views (like the 3 state view from Sassafras Mountain Observation Tower below) and classic southern hospitality. Upcountry South Carolina is an excellent area to experience autumn. There is no wrong way to enjoy the beautiful fall foliage!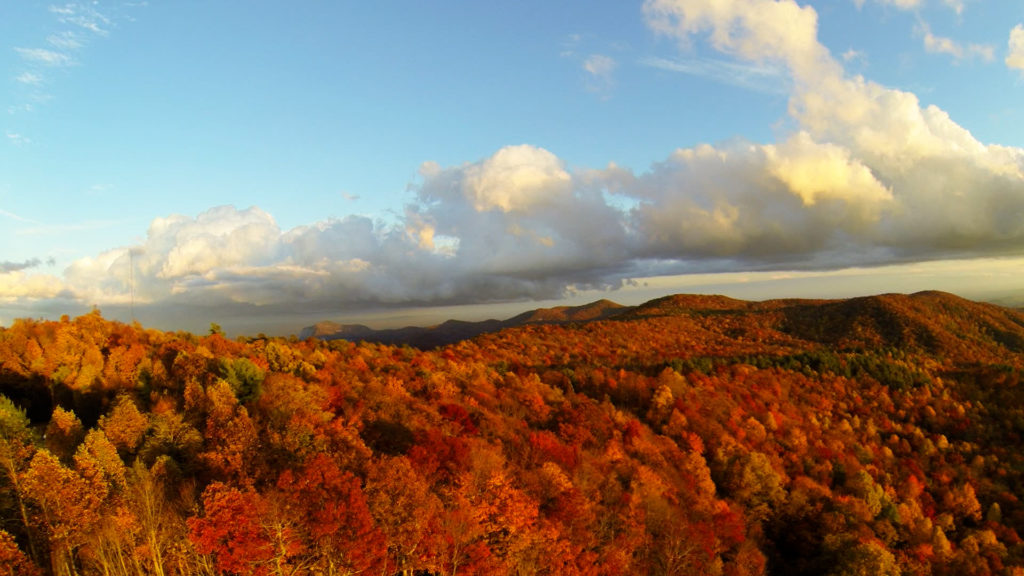 By Rachel Balts for UpcountrySC