By Hope S. Philbrick
There's no need to adjust the tint on your windshield. The fall colors really are this bright on the drive along the Cherokee Foothills National Scenic Byway (Highway 11) in Upcountry South Carolina.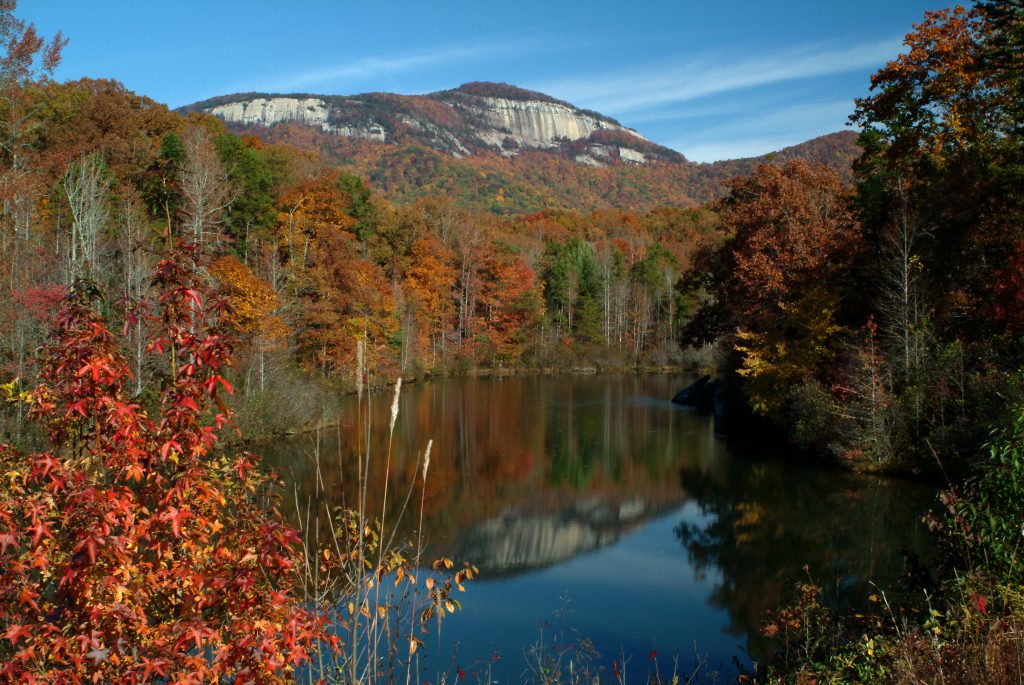 Beginning in September and continuing through early November, leaves dazzle in shades of orange, red and yellow across the northwest corner of South Carolina, the mountainous area known as the Upcountry. Patches of golden Black-eyed Susans and purple Beautyberry bushes also burst into bloom. Home to the southernmost peaks of the Blue Ridge Mountains and picturesque in any season, this six-county region boasts splendid technicolor each fall.
Nature's kaleidoscope is a reason enough to visit. Come see the display while driving along the 112-mile scenic alternative to Interstate 85, stopping at lookout points to snap photos and occasionally pinch yourself as a reminder that the dreamy landscapes are real.
Better yet, plan to stay awhile. Upcountry South Carolina is packed with attractions and a wondrous array of fun things to do. Here are some of our favorite ways to jump into fall color in Upcountry South Carolina.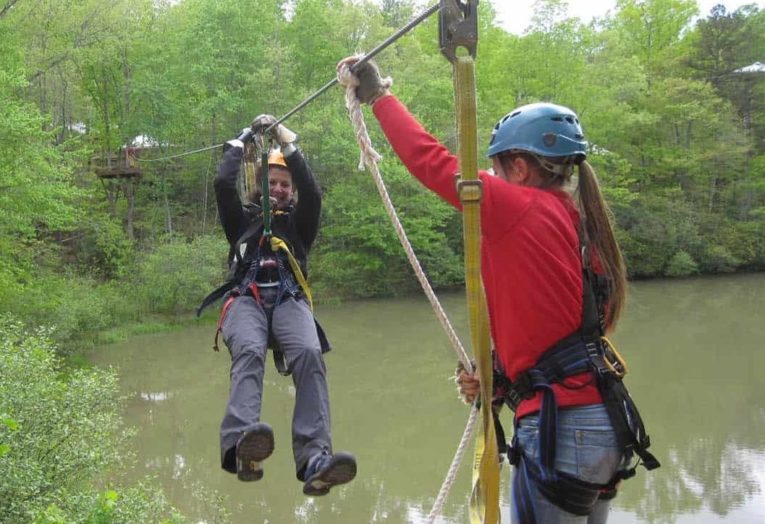 Zip-Lining For the best view of leaves, get up in them! The treetop course at Chattooga Ridge Canopy Tours weaves through white oak and maple trees for an unparalleled squirrel's-eye view of fall in the national wild and scenic Chattooga River region. Test your mettle navigating two sky bridges, 10 zip-lines through trees, four zip-lines over Academy Lake, and a 1,100-foot zip-line off a 50-foot tower. While zooming through 19 acres on the three-hour tour, two guides share insights about local history and wildlife.
Whitewater Rafting Brave the waters made famous by the film "Deliverance" with a Nantahala Outdoor Center trip. The Chattooga River, one of the longest free-flowing mountain rivers in the Southeast, was designated a national wild and scenic river in 1974 and offers some of the area's best whitewater rafting and trout fishing. In rafting terms, the 57-mile long river is considered a drop and pool river, which means some sizeable elevation changes present intense challenges. The commercially rafted sections (III and IV) cut through forests and offer patches of whitewater that increase in intensity and difficulty as the trip progresses. The highlight of Section III is Bull Sluice, a challenging adrenaline rush that drops 14 feet in two tiers.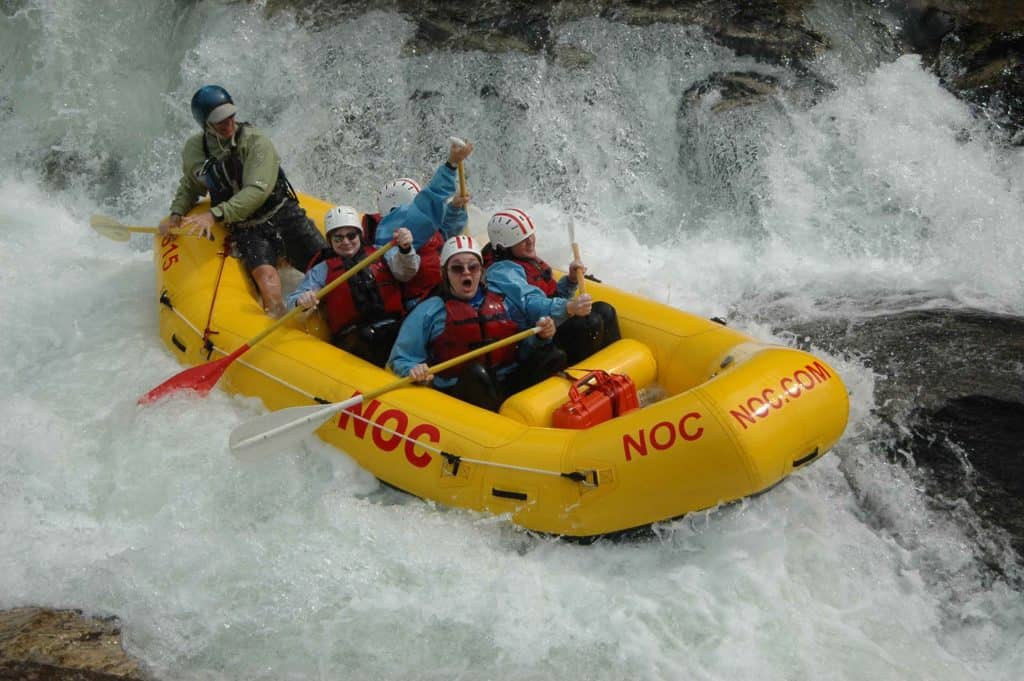 Boating The Upcountry is home to many lakes where the photographic beauty of fall is doubled as the water reflects the landscape's mirror image. Lakes here boast clear water, great mountain views, narrow inlets and wide open water, plus miles of shoreline. Several rental companies on Lake Keowee, Lake Jocassee, Lake Hartwell, Lake Oolenoy, and other lakes make it easy to get out on the water, whether you prefer kayaking, canoeing, stand-up paddle boarding, water skiing, or tootling around in a pontoon boat. Guided lake tours provide a stress-free option to sit back and enjoy the view while learning about the area if you prefer not to captain.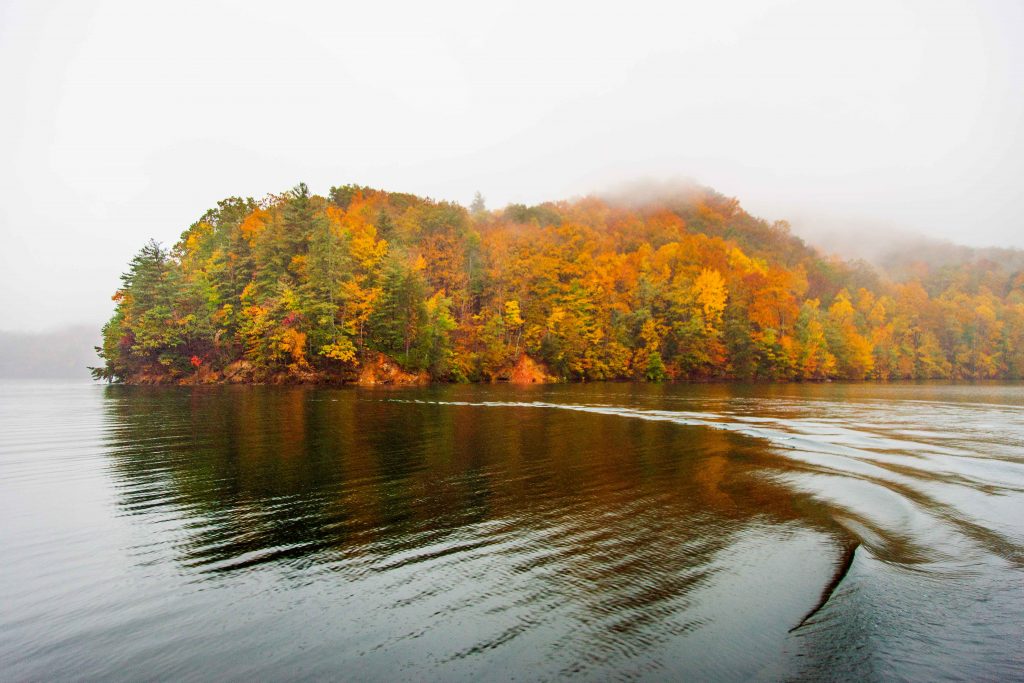 Fishing The fish are biting year round. Hook a world-class catch in any of the area's abundant lakes, rivers or streams. Cast your line to lure bass, trout, stripers, catfish, crappie, hybrids, and pan fish; all populations are strong as some are stocked by the Walhalla Fish Hatchery. Tackle shops and guides are ready to assist to ensure a great angling experience, whether you prefer to sit in a boat on a lake or stand to fly fish in the river.
Scuba Diving Prefer to be under the water rather than on it? No problem! Lake Jocassee is a world renowned freshwater diving destination with visibility of more than 50 feet at depth on warm clear days. Dive down to see the "wall" created when the side of the mountain was blasting during construction of the dam. You can also swim through a 40-foot wooden sail boat.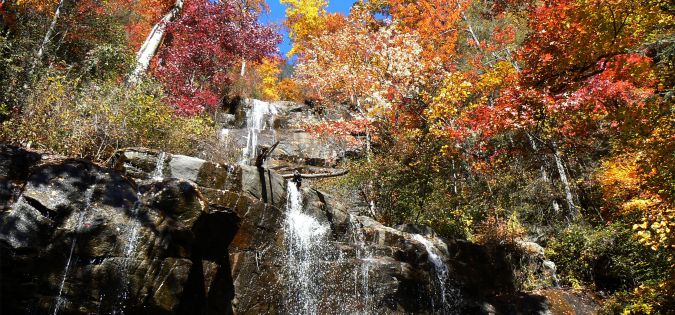 Waterfall Hunting Home to more than 100 waterfalls in Oconee County alone, Upcountry South Carolina is quite literally a rush. Some falls (like Wildcat Branch Falls on Hwy. 11) are so easy to find and photograph you won't even need to step out of your car to take a picture. Reaching some others requires effort that ranges from easy strolls of a few hundred feet (like Issaqueena Falls at Stumphouse Tunnel) to strenuous uphill climbs (like Bee Cove Falls). Whether the cascades are roaring or gurgling, seeing a waterfall is worth every ooh and ahh it inspires.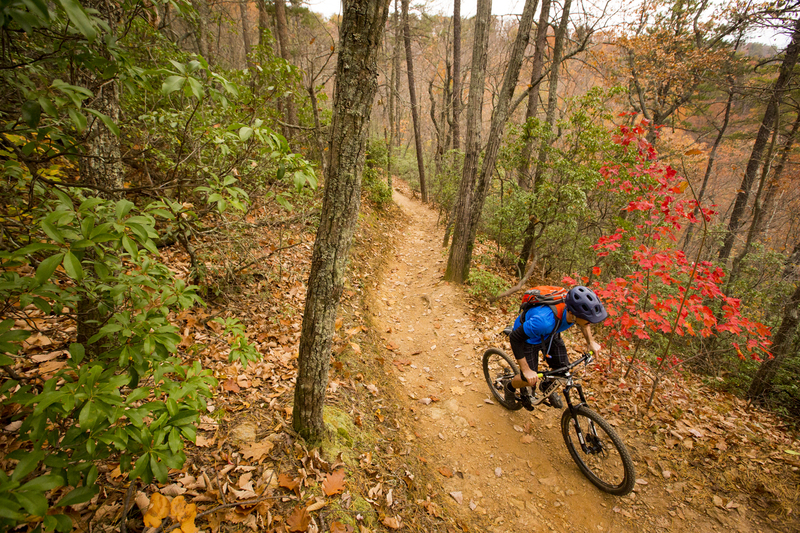 Hiking, Biking & Horseback Riding From simple paths to steep climbs, graceful curves to hairpin turns, it's easy to find your way into, through and out of the woods in Upcountry South Carolina by following maps and signposts that detail the hundreds of well-established trails and roads. Whether you prefer to walk on your own two feet, pedal two wheels, or rein a horse, there's a route for you. Among the options, meander through red maple, oak, and other trees at Devils Fork State Park to access scenic views of Lake Jocassee. Twelve miles of trails in Table Rock State Park pass mountain streams and waterfalls, climb Pinnacle and Table Rock mountains, plus serve as an access point to the 80-mile Foothills Trail. Two 18th century structures still stand at Oconee Station State Historic Site, where there's also a trail leading to Sumter National Forest and Station Cove Falls. At Stumphouse Tunnel Park explore the 1,617-foot long tunnel that was started in 1852 to connect Charleston to Cincinnati but was never finished and now serves as a unique point of interest where it's always a cool 50 degrees.
Picnicking Pick up a peck of fresh apples along with honey, cider donuts, and other tasty treats at a roadside market like Chattooga Belle Farm or Hollifield's Orchard then head to a picturesque spot to treat your eyes and taste buds to the best of fall. Among the pretty picnic destination options, Poinsett Bridge, constructed in 1820, is the oldest surviving bridge in the state! The 14-foot stone structure with a Gothic arch was part of the State Road and crosses over Little Gap Creek. Campbell's Covered Bridge, built in 1909, is the last remaining covered bridge in South Carolina. The 38-foot long 12-foot wide bridge crosses Beaverdam Creek and is surrounded by grassy hills, trees, and curiosities like the remnants of an old grist mill and home.
Hawk Watching On a good fall day it's not unusual to see hawks riding the air waves above Caesars Head State Park. For the best view, head to the readily-accessible overlook atop the rocky peak of the south-facing Blue Ridge Escarpment. Fall migration brings bald eagles, Cooper's hawks, sharp-shinned hawks, merlin, American kestrel, Mississippi kites, and more feathered friends to the area so you never know what you might see. Bring binoculars!
Tasting From artisanal apple brandy to pimento cheese, craft beer to shrimp & grits, options abound to satisfy your thirst and hunger in Upcountry South Carolina. Among the tasty options, sip hand-crafted ales, ciders and meads at Carolina Bauernhaus Ales in Anderson or small-batch whiskeys, brandies and moonshines at Chattooga Belle Farm Distillery. Dig into upscale preparations of southern favorites like fried green tomatoes, crab cakes, fried flounder, Memphis-style ribs and much more at The Lighthouse at Lake Keowee or fresh baked scones and muffins along with delicious sandwiches at Upcountry Provisions in Travelers Rest.

Relaxing Upcountry South Carolina offers several inviting overnight accommodation options surrounded by autumn scenes, from national chain hotels to private rental cabins and condos, campsites to pampering inns like The Red Horse Inn. There's something sublime about gazing upon fall colors from a rocking chair on a secluded porch you can call your own, even if only for a night.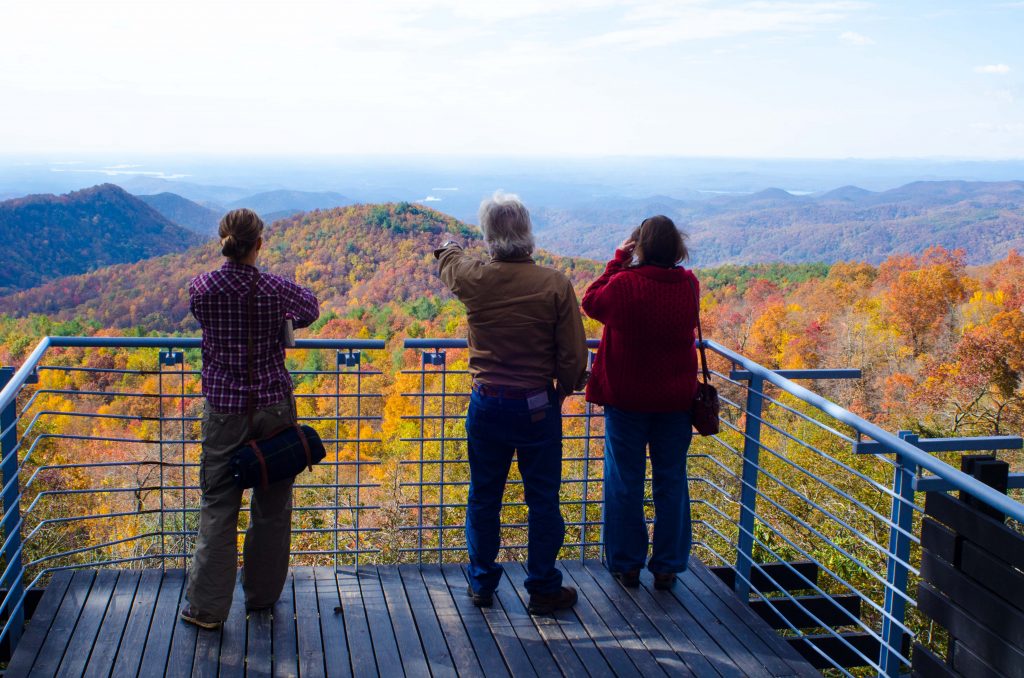 Read more: Finding Fall Foliage in Upcountry South Carolina.